Verdings
Verdings is a district of the so-called Dürer-city Klausen. It is situated between Latzfons and Feldthurns on a sunny plateau in a low mountain range.
From here you have a 360-degree view with marvellous prospects into the Villnöß and Eisack Valleys, to the Dolomites and the Schlern, onto Ritten and into the Tinnebach Valley. You can also see the Latzfonser Kreuz below the Kassian Peak and the Lorenzi Peak. The little village has about 500 inhabitants and was first documented in 956.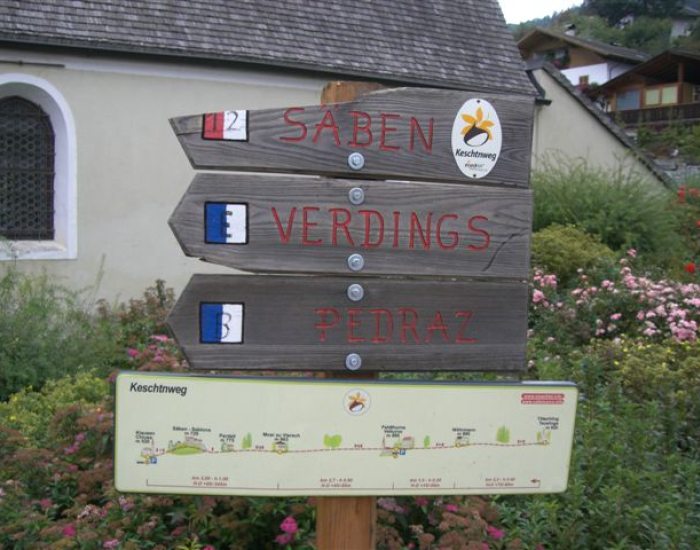 Velthurns Castle
The recently renovated Renaissance castle Velthurns used to be the summer residence of the prince-bishops of Säben-Brixen. Nowadays it is a cultural monument used as a museum that can be visited between March and November.
Dorfstr. 3 | Via Paese 3, -Tel. +39 0472 855 525 www.schlossvelthurns.it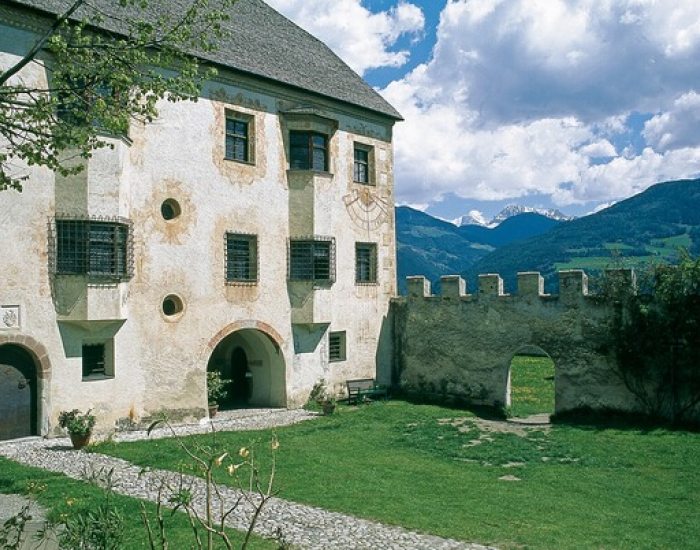 Playground
Right next to our inn you can find a big shady playground with many play structures for young and old alike. Enjoy the beautiful surroundings while the little ones go on the swings, the playground slide, play in the sand or climb.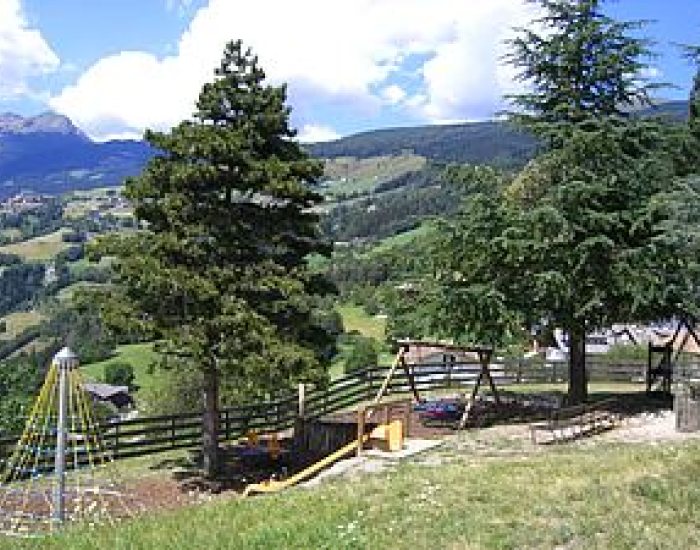 Church St. Valentin
The Romanic Church St. Valentin dates back to the 12th century, we celebrate its patron on 7th January.
The square construction of the chapel depicts the "four last things" and a wheel of life from the year 1736.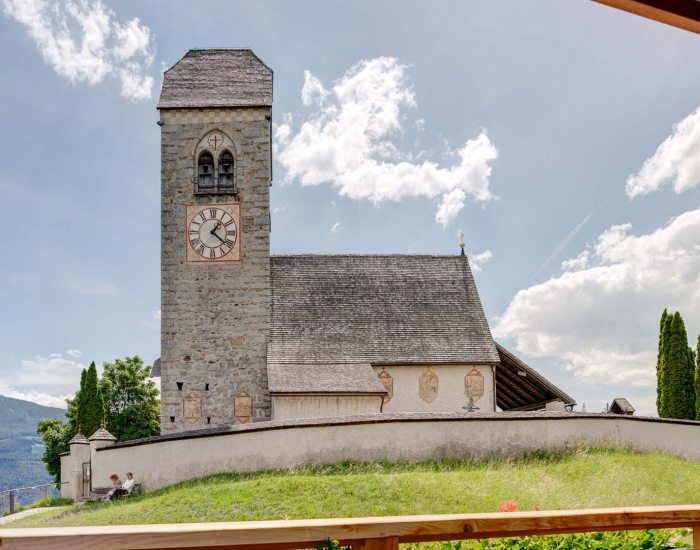 Säben Monastery
The Säben Mountain and its monastery deserve attention because of their archaeology, history and art. The Säben Monastery used to be the residence of the bishops up to the year 1000 before they chose Brixen as domicile.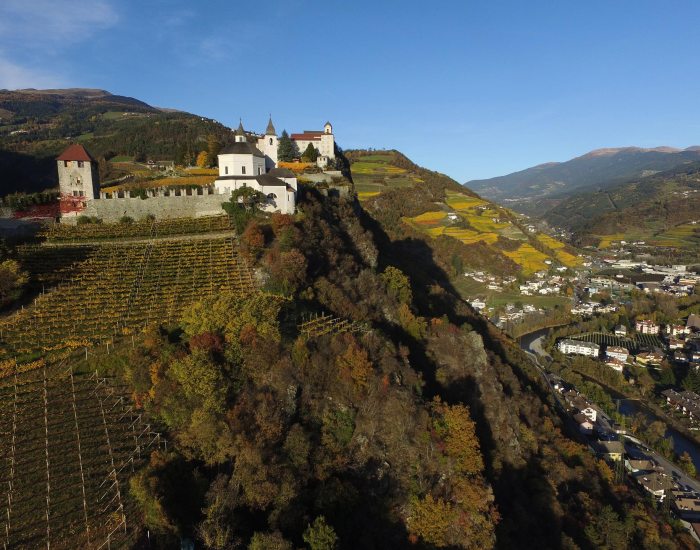 Latzfonser Kreuz
At a height of 2.296 metres, this is the highest place of pilgrimage in South Tyrol. There are many wondrous tales about this place, such as the "Black God" indicating the place where the big cross is in person with a nod of his head.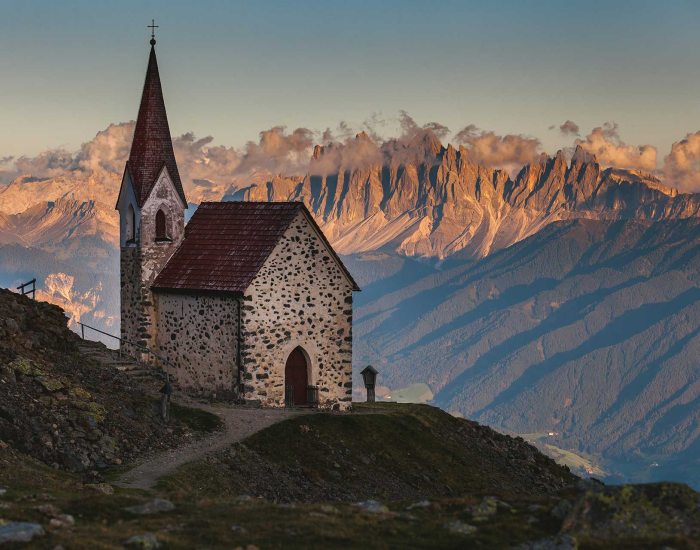 Hiking trails
There are many hiking trails that lead to our inn or are located nearby: Kastanienweg, Birmehlweg, Panoramaweg and the Dörferwanderung that crosses the villages between Feldthurns and Latzfons.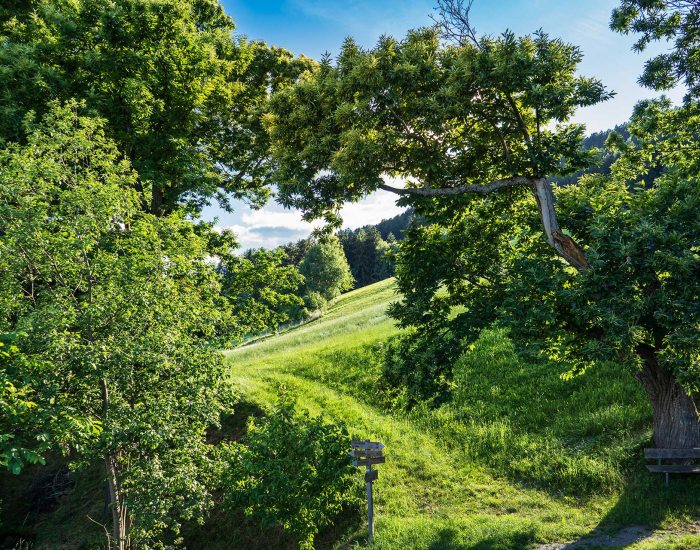 Mountains and their peaks
Königsangerspitze, Radlsee, Latzfonser Kreuz, Kassianspitze, Drei-Gipfel-Runde and Lorenzispitze